| | | |
| --- | --- | --- |
| Welcome | | You are not currently logged in. |
| | | |
| --- | --- | --- |
| | | |
| | | |
| | | |
Local 728 members and retirees:
Let your voice be heard: fill out the Teamster 2020 presidential election survey today @ www.teamsters2020.com
Working Americans are facing numerous challenges. Despite top line economic numbers that may look favorable, many workers' paychecks are not growing. Add to that concerns surrounding pensions and health care benefits, and uncertainty looms for the U.S. middle class.

That's why the 2020 election is so very important for this union and its members' future. The Teamsters are committed to making our presence known and demanding that presidential candidates make commitments on issues that are important to our membership. That starts with input from Teamster members.
Together, Teamster brothers and sisters can ensure that this great union plays a critical role in electing a president that will truly stand with our members and the nation's workers.
Please fill out a Teamsters 2020 Election Survey at teamsters2020.com
by Labor Day. Help the union to identify the issues that matter most to
members before the Teamsters endorse a 2020 presidential candidate.
The NEW UPS and UPS Freight Teamsters National Master Agreement and local supplements are NOW available online and on the UPS Rising mobile app.
Can you take some time out today to help Protect Our Pensions?

Call 888-979-9806 NOW!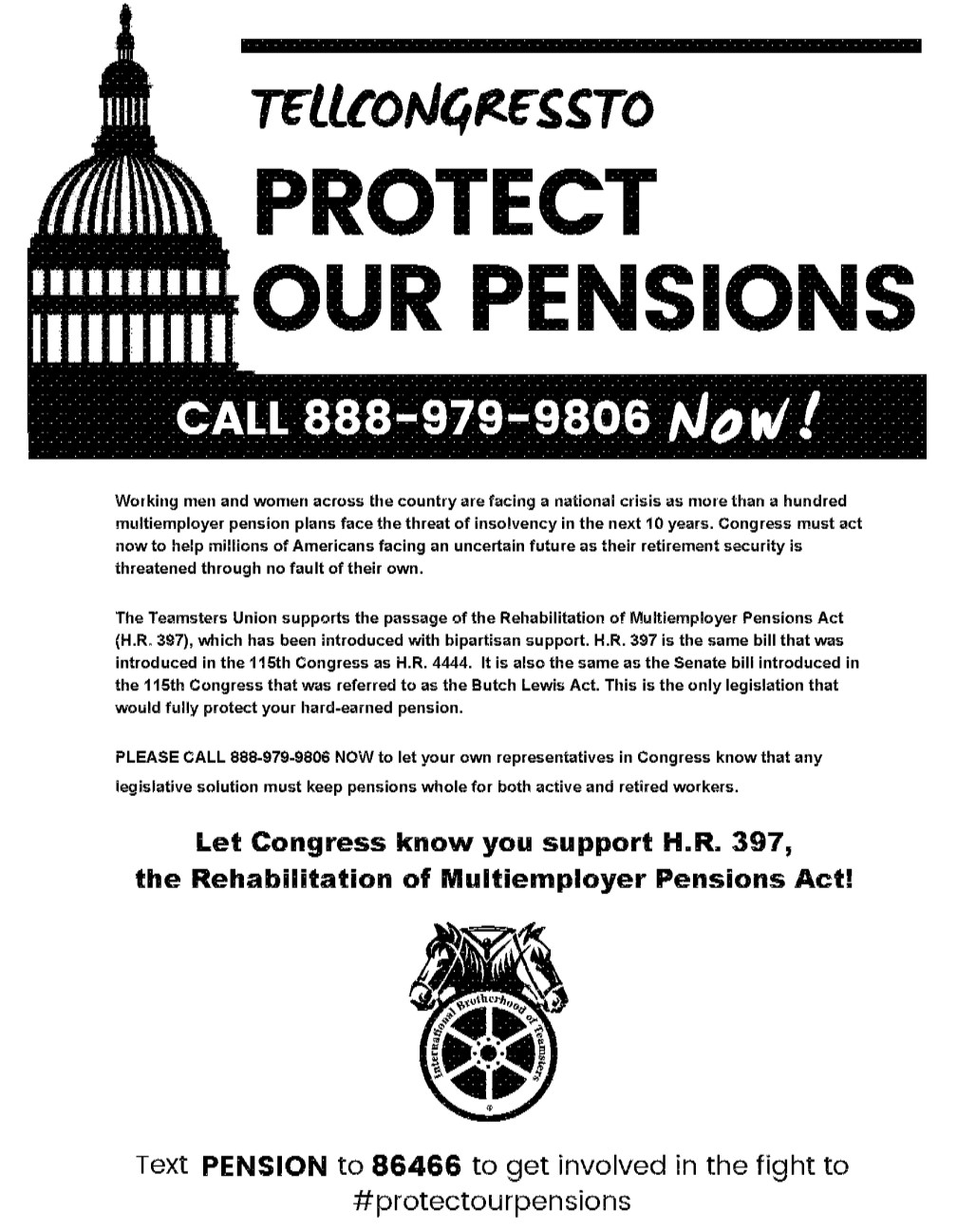 Urge Congress to support HR 397, the Rehabilitation of Multiemployer Pensions Act!
The economic security of retired workers is under constant attack. But don't despair- take action!
Call Congress TODAY at 1-888-979-9806 and call for the Georgia congressional delegation to support HR 397 the Rehabilitation for Multiemployer Pensions Act sponsored by Reps. Richard Neal (D-Mass.) and Peter King (R-N.Y.).
Please save and help circulate the below flier to all Teamsters and friends of labor throughout our state and beyond.